3 Benefits to Repairing Your Laboratory Scale over Replacing It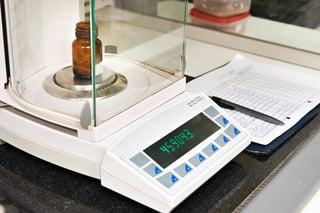 The scale you use at your workplace is responsible for a lot – accurate data that is used to measure results, calculate components, and make adjustments in a variety of applications. When your scale's calibration fluctuates or shifts unexpectedly, one of the options you might consider is to replace it, as you would with any other electrical device.
Before you start pricing a new scale and making a huge dent in your operational budget, look into repairing your existing scale instead. There are three big benefits to repairing your precision balance rather than starting from scratch for your laboratory or even retail and industrial weighing needs:
It Saves You Money
The first, and arguably the most important benefit, is cost savings. Simply put, a repair appointment to fix or recalibrate your scale won't cost nearly as much as a new unit. Whether your scale is off by a few units of measurement or has stopped working entirely, the problem may be much smaller - and less expensive - than you realize. The only way to determine the cause of the issue is with a fast, affordable appointment with a scale repair professional. In fact, you won't even reach the repair stage if you diligently get your scale equipment serviced.
It's Convenient
Even if you opt for expensive express shipping speed, chances are you won't have reliable weighing equipment for days, or even weeks, while you wait on a replacement. Calibrating it for the first time will take longer than simply recalibrating it. The cost of a company-wide day of "downtime" is often considerably more than the price of a new scale, but it's an unavoidable cost when you opt for replacement. Repairing your precision equipment, on the other hand, can typically be done in-office and very quickly, ensuring your workplace can get back to business as usual in no time.
It's Familiar
The "improved" part of "new and improved" can come with a lot of headaches attached, particularly with precision measuring equipment such as laboratory scales. When your entire staff is familiar and comfortable with the controls and readouts of a specific scale, introducing a new model has a learning curve that can negatively affect productivity. Newer hires will need to be retrained, and in some cases, instruction videos or in-house manuals will need to be updated as well. Repairing your existing scale avoids these concerns, allowing your workflow to continue unimpeded.
Remember, the best way to avoid calibration errors or wear-and-tear on internal scale components is with regular maintenance. Make sure to make regular appointments to keep your measurements accurate and your to-do list free of precision scale-related woes.
When was the last time you had your laboratory scale serviced? Contact Alliance Scale today to schedule your calibration and maintenance appointment with our expert service team.