Massachusetts-Based Scale Service and Repair Company Enters into an Exciting New Market
Canton, MA-December 11, 2018—A new line of cannabis-related products is being introduced by Alliance Scale, Inc. of Canton, MA. The company's decision to enter this emerging industry coincides with Massachusetts' official legalization of recreational marijuana sales, which began in November of 2018. Raymond Secour, President of Alliance Scale, said, "The Cannabis industry is set to expand rapidly and initiate an economic boom for New England and the rest of the Northeast. I believe that Alliance Scale is perfectly positioned to help this new sector by providing the necessary products, services, and appropriate calibration weights (Class II) for 'legal for trade' balances to get dispensaries up and open for business."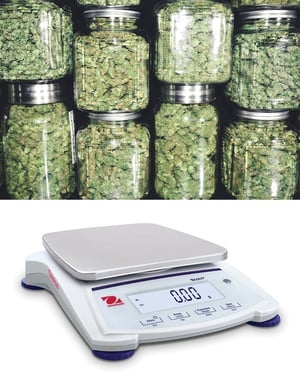 Among the instruments being offered are high-quality pH meters, moisture analyzers, centrifuges, and legal for trade dispensary scales—each critical to their specific application within the cannabis trade. In additional to the release of this new product range, Alliance Scale has published a new downloadable e-book which provides an educational overview of the available equipment to interested buyers. By offering this innovative range of products and educational resources, Alliance Scale aspires to help growing facilities, processors, testing laboratories, and storefront dispensaries successfully navigate into this new market.
Alliance Scale is also a provider of expert repair and inspection services across a broad range of commercial and retail applications. For dispensaries, cultivating facilities, and testing labs in need of calibration services or annual inspection certifications, Alliance Scale offers the widest on-site scale service in New England. With an eye towards the future, the company has full intentions to continue expanding upon its selection of cannabis-related tools and services to keep up with growing demand of the industry.
For more information about Alliance Scale, visit www.alliancescale.com.
About Alliance Scale
Alliance Scale, Inc. is based in Canton, MA and is a value-added distributor for several major manufacturers of industrial scales and weighing systems. Alliance also provides expert repair and inspection services throughout the greater New England area. Offering on-site servicing and skilled technicians, Alliance Scale is always at the ready with quick response to repair or inspection needs to keep scales operational and help meet all regulatory and compliance requirements.