FOR BOTTLE FILLING & LABELING
A new programmable indicator for chemical, food, and industrial container and bottle filling applications ranging from simple labeling to full data acquisition, traceability, communication and reporting has been introduced by Alliance Scale, Inc. of Canton, Massachusetts.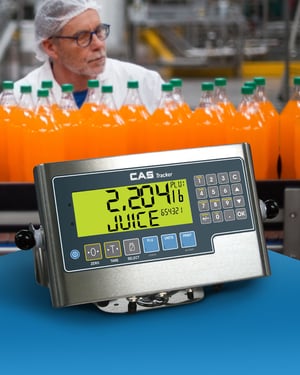 The Alliance/CAS Tracker is a smart programmable indicator that can be configured to perform simple labeling or store and export all transactional data which can be sorted to provide meaningful reports. Featuring a rugged stainless steel housing and enclosed keypad and display, this programmable controller is ideally suited for bottle filling and labeling applications.
Calibrated, configured, and controlled via the front panel, the Alliance/CAS Tracker has a multi-line display, easy to use keypad with function keys, versatile human readable and barcode labeling software, and full data manipulation capability. A variety of communication options are available to meet specific customer labeling and packaging requirements.
The Alliance/CAS Tracker is priced from $2,995.00, depending upon configuration. Literature and price quotations are available upon request.