PROVIDES LOAD COMPLIANCE ON SITE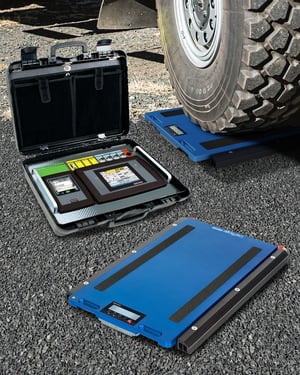 A new, portable wireless wheel pad scale that lets users monitor load safety and weight compliance virtually anywhere is being introduced by Alliance Scale, Inc. of Canton, Massachusetts.
The Alliance Load Ranger Wireless Wheel Pad Scale features a remote indicator in a carrying case that receives Bluetooth® signals from up to six weigh pads and can accommodate up to 14 pads (seven sets) joined via cable with wireless communication to the indicator. Allowing full vehicle weighing on location, the wheel weigh pads have an indicator with a backlit display along with wheels and handles for ease of use in restricted areas.
Incorporating wheel weighing software that allows for static axle weighing and a multi-function mode for up to 14 pads, the Alliance Load Ranger Wireless Wheel Pad Scale can calculate the X – Y coordinates and the center of gravity, along with semi-automatic tare. Selection of displayed data is via LCD touchscreen, it has an integrated printer that can print and display the last 3,500 vehicles. Each aluminum pad weighs only 50 lbs.
The Alliance Load Ranger Wireless Wheel Pad Scale comes in several capacities priced from $1,595.00; offered with a variety of accessories.